Foundation Gathering Ke 7
FOUNDATION GATHERING (FG) merupakan Executive Discussion Event yang rutin diadakan setiap tahunnya oleh Sokrates. Peserta yang menghadiri event ini adalah para undangan dan khusus ditujukan kepada para Ketua Yayasan Sekolah.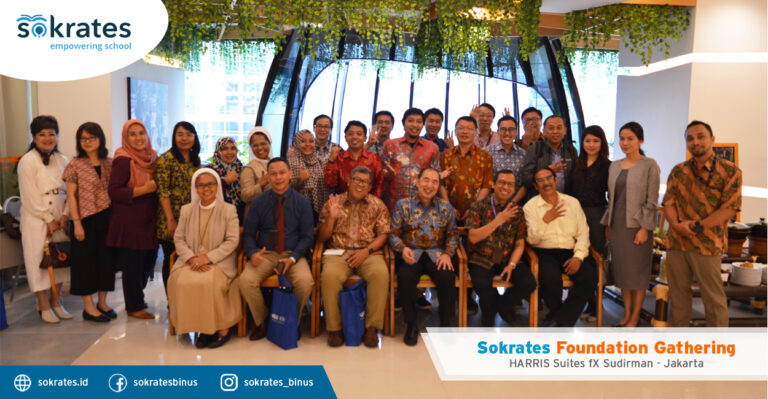 EDUCATION 4.0 menjadi topik yang didiskusikan pada FG ke 7 kali ini dengan dipandu oleh 4 narasumber yakni, Ir. Bernard Gunawan (CEO of BINUS Group), Firdaus Alamsjah, Ph.D (Director of BINUS CREATES), Gintoro, S.Kom., M.M (Director of Sokrates) dan Dr. (cand) Jimmy Sapoetra, S.S., M.Pd (Lecturer Specialist of PGSD BINUS University).
Event yang mengambil lokasi di Harris Suites fX Sudirman Jakarta ini dihadiri oleh 20 peserta dari 15 sekolah yang tersebar di Jabodetabek, Pontianak, Cirebon, Bandung yang meliputi: Kinderfield Highfield School Cirebon, Kinderfield School Simprug, Kinderfield School Pontianak, Kinderfield School BSD, Kinderfield School Bogor, Sekolah Don Bosco, Perkumpulan Strada, Sekolah Sang Timur, Sekolah Tunas Bangsa Nasional, Sekolah Kanaan, Sekolah Al-Ihsan Islamic School Bandung, Sekolah ICM Gunung Geulis, Sekolah Kristen Kalam Kudus Jakarta, Home Schooling Kak Seto, Sekolah Abdi Siswa.